04 QUALITY & INNOVATION
|
PRODUCT DESIGN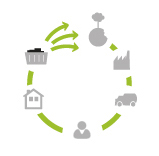 RESEARCH AND DEVELOPMENT
This department is led by a team of experienced technicians equipped with the latest software.
Tools such as 3D design and modelling and CAD/CAM enable the design department to design products with ever higher performances.
See HUOT's innovations
QUICK AND EASY INSTALLATION
In trenches likely to contain water, mud, soil and stones, it is important for products to be quick and easy to install.
HUOT presents innovations for each product family:
DISTRIBUTION NETWORK :

Large gasket, deep pipe insertion (flange fittings and couplings), double-flange for pre-assembly outside trench (flange fittings),

SERVICE CONNECTIONS :

universal service valves (YACUO) or side tapping valve with 180° rotation, self-sealing with saddle (metric thread)

BRASS FITTINGS :

wide product range, large gasket, self-sealing transformation components, REXUO tightening wrenches

WATER METER EQUIPMENT :

Ready for use, adjustable collar and cover, connection outside or inside water meter box...
ECO-DESIGN
HUOT has always designed products with sustainable development in mind. We factor environmental impacts into the design and development of our products at all stages of their lifetime: raw material, production, logistics, distribution, use and recycling.
DURABILITY AND PERFORMANCE
The average service life of products on a distribution network is 70 years. The EN 805 standard stipulates a product service life of over 50 years. For this reason, HUOT products are designed to provide at least these levels of performance.
Our large-volume gaskets and the 300 micron epoxy applied on our cast iron products guarantee quality and durability.
See HUOT quality