04 QUALITY & INNOVATION
|
STANDARDS AND CERTIFICATION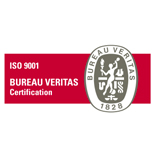 HUOT PRODUCTS ARE DESIGNED AND MANUFACTURED ACCORDING TO APPLICABLE STANDARDS
EN805
We design our products in compliance with the EN805 standard which particularly stipulates:
A reference and product design service life of 50 years.
Sanitary compliance of materials in contact with drinking water.
Network protection against water return and pollution risks. (Installation of check valves, gasket leak-tightness at negative pressure).
Specific gaskets, compensating angular deviations due to terrain movements after installation (design of our flange and coupling fittings)
ISO 9001
Our Saint-Mihiel factory is ISO 9001 – 2008 certified. This certification includes:
Design
Industrial expertise
Advice & marketing in respect of end-to-end drinking water and other fluid distribution systems
ISO 14001 TARGET ACTIONS
We implement actions on a daily basis with a view to ISO 14001 (Environmental Management). Concrete examples: material recycling, selective waste sorting, waste reuse, environmental impact reduction studies.
ACS (SANITARY COMPLIANCE CERTIFICATE)
All the materials used in our products meet sanitary compliance requirements in respect of the transport and storage of water intended for consumption. These certificates are available on request.
REACH
All our products comply with REACH, the registration for monitoring harmful chemicals such as solvents, epoxy paints, adhesives, etc.