04 QUALITY & INNOVATION
|
OUR EXPERIENCE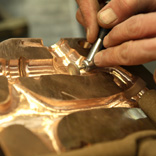 LOCATED IN SAINT-MIHIEL IN THE LORRAINE REGION IN FRANCE, HUOT'S ORIGINS CAN BE TRACED BACK TO THE MIDDLE AGES AS A LOCAL FOUNDRY RUN BY MONKS.
We began specialising in pipe fittings in the 19th Century.
Huot is specialised in the design and manufacture of pipe coupling and service connection fittings for drinking water systems, as well in advising in their use.
Huot is a member of the St-Mihiel SAS Group: three French manufacturing firms cultivating an active partnership with professionals in the construction, sanitary and fire protection sectors.